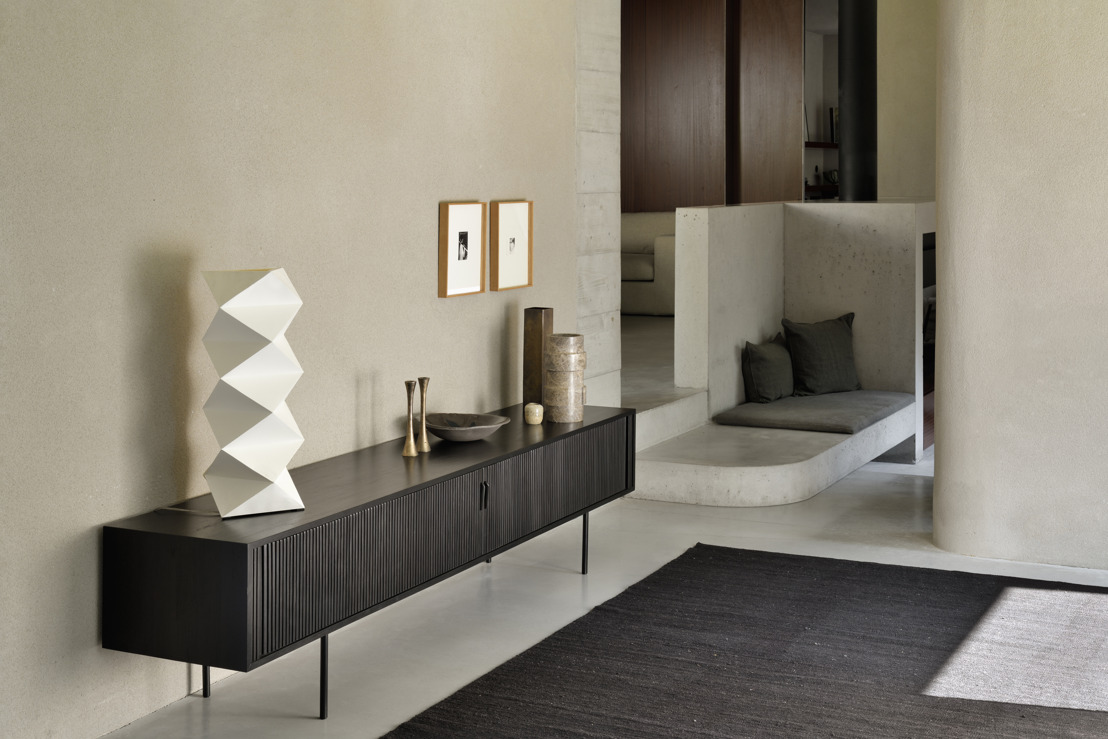 Ethnicraft launches 187 new SKUs ahead of fall market schedule
Among the latest are new bedroom items to 'revive' the space, a bold upholstery colour on a beloved sofa, an entirely new product line and more.
Fresh for fall 2023, Ethnicraft is pleased to unveil an entirely new collection as well as line extensions of customer favourites, designed to create warm and inviting interiors. From lounge furniture to elegant storage, bedroom and dining essentials, upgrades to office items and more, Ethnicraft has made it easier than ever for retail partners, designers and architects to meet their customers' and clients' furnishing needs.
Learn more about the latest novelties launch, including an entirely new line that consumers will love.
Welcoming a down-to-earth material
Elegant simplicity forms the basis of the Elements collection. Seamless and softened shapes blend perfectly with textural character at the expert hands of artisans. Each piece offers a slightly unique identity with a high-performing, fine, earthy stone finish. Because the items in the new Microcement material are hand-finished, each piece is unique.
Included in the collection's debut are both round and rectangle coffee tables, round and mushroom-shaped side tables and a sleek console. This makes the collection ideal for layering into spaces from an entryway, living room, office and even bedroom with ease.
Elements make a durable and stylish addition to a variety of spaces as the collection is versatile, with a soft, minimal design that complements solid wood, upholstery and metal pieces with its contrasting texture. The surfaces give movement and interest in any context, and while the texture creates visual interest, it is incredibly easy to maintain – simply wipe clean and it's as good as new.
Sorting and storing life's treasures
Sideboards can hide items of necessity that aren't worthy of being displayed, serving as a beautiful focal point while also being highly functional. Two favourite Ethnicraft collections are the PI (Polished Imperfect) line and the Roller Max line, which are now expanding to include more storage items, including the PI sideboard in two-, three-, or four-door configurations. Made from solid oak, the sideboard coordinates with the dining table, which launched in April, and features the signature carved detail where the legs and top meet. This is the first natural-coloured sideboard Ethnicraft has launched in some time, rounding out newer sideboard offerings in a lighter shade.
Adding to the Roller Max collection is the TV cupboard, which offers functional storage in an eye-catching design, an elegant and sophisticated item for both residential and commercial spaces. The black varnished teak item is a bold statement and is available in two sizes, each with two sliding doors and an interior drawer for easy organisation.To draw attention to meaningful objects, quality shelving is key. Racks and consoles are the perfect way to highlight heirlooms, souvenirs from a memorable holiday, photographs of loved ones and more.
Launching this fall are the Geometric console and Geometric rack, two pieces that add visual interest to a room, entryway or hallway. The dark varnished teak adds a touch of warmth, as well. Also display-worthy are the PI wall shelves now available in a versatile dark brown mahogany finish. ​ Previously available in varnished natural mahogany , the new colour provides yet another option for this wall shelving unit, available in two-, three- or five-shelf configurations.
​
Warming the heart of the home
The dining room is a place where loved ones gather, memories are made and bonds are strengthened. The dining table becomes a destination for sharing a warm meal together and exchanging stories about days passed but not soon forgotten. For those meaningful moments, timeless dining furniture can host gatherings for decades to come.
The September 2023 novelties launch includes many Ethnicraft essentials in new variations to fit more dining spaces in size, shape and colour. Notably, the Bok dining table and chairs are now available in a brown-varnished teak. Reminiscent of a goat's curved horns, the Bok collection combines sculptural elegance and contemporary crafting into a graceful and airy form. The Bok has become a signature design. The new varnish finish offers the sought-after look of walnut with the durability of teak. It also means that the wood will be better protected against use, and with several sizes available, this warm wood with a naturally beautiful grain can be enjoyed without fear of damage.
Also available in a brown-varnished teak are the Osso stools in three heights. The Osso stools are a versatile seating addition around the dining table, as well as at a bar or counter for a casual morning breakfast or late-night drink to end the day. The PI dining table and bench are also now available in the brown-varnished teak, for a warmer brown tone in the nature-inspired collection.
Oak offerings are also expanding to include the Bok dining table in a square design, the Corto dining table in a round tabletop, and the PI bench to further complement the PI dining table in oak, which was first introduced in April.
Reviving the bedroom space
The bedroom is where days begin and end – a place of calm and peacefulness to either prepare for the day ahead or wind down for a restful night. Subtle interplay of natural elements and minimalistic décor invites a tranquil ambiance. An essential Ethnicraft bedroom collection, the Spindle, expands with a new item that will complement other Spindle pieces and provide plenty of storage to keep the bedroom or hotel room relaxed and free of clutter. Inspired by the traditional spinning wheel, the collection features slightly tapered legs and rounded edges that add a soft, sensual quality. The Spindle dresser offers four drawers of storage, plus an open shelving space under its glass top, like its bedside table. It can easily be styled with a lamp, keepsakes, books and containers filled with life's necessities. In addition to the Spindle dresser is the Spindle bed in a single size (available in Europe only), ideal for children's, teens' and guest rooms.
Further reviving the bedroom as well as Ethnicraft bedroom offerings is the Revive bed, available to European markets only. Find solace in the upholstered piece, where comfort meets practicality. Its linen headboard, effortlessly removable for dry cleaning, ensures a fresh and inviting space. Stitched details add a touch of refined elegance that whispers tranquility into the bedroom. Available in Sand or Grey linen, the fabric is easily switched to the warmer or cooler shade with the changing of the seasons. This bed adds a softness to a relaxed space that can transform a bedroom into a personal sanctuary.
Alongside the bed, night tables and dresser, a lounge chair enhances a bedroom space, providing seating to settle in for a captivating book or a place to enjoy a morning coffee before preparing for the day ahead. The Eye lounge chair is now available in a dark brown-varnished mahogany – a grounding tone for an accent piece.
Choosing life-friendly upholstery
Upholstered furniture lends to a style with comfort at its core, elevating a living space's aesthetics while providing a cosy and inviting place for relaxation and social gatherings. This September, the popular N701 modular sofa is available in a new shade of the well-received Eco Fabric made in Italy from fibres recycled from the fashion industry. The anti stain-treated Eco Fabric is made using advanced flat-weave technology, which brings movement and depth to the surface. The fresh colour, Moss, is a nature-inspired addition to the other Eco Fabric colour available, Graphite. Paired with natural wood furniture pieces and layered with neutral throws and cushions, Moss will appeal to those looking to create a tranquil and welcoming lounge, no matter the size with infinite possibilities in its modular design.
Also new in upholstered seating is the indoor Jack sofa, furthering the indoor Jack collection of lounge chair and foot stool, which are available in Ivory, Black leather or Terra nubuck leather cushions. The Jack sofa cushions are removable and washable covers, available in an Ivory fabric, allowing for a complete seating arrangement for a small lounge area in the Ivory upholstery.
To learn more about the new products, go to Ethnicraft.com. For hi-res images, view the media gallery.